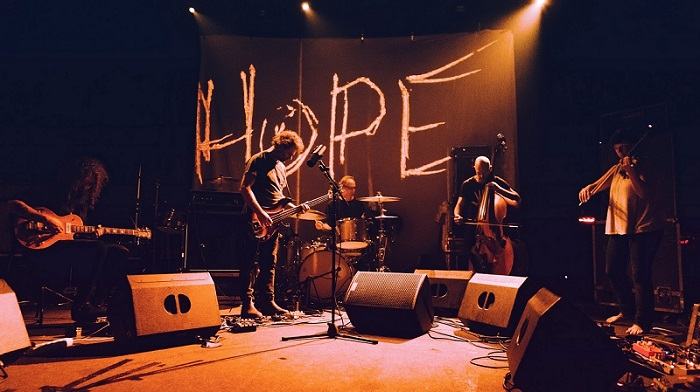 GodSpeed You! Black Emperor new record and new requests
How a music group can deliver strong and clear messages without singing is a mystery yet Canadians GoodSpeed You! Black Emperor they succeed very well. In their songs you can hear only distant and distorted voices, but they do not do it to hide their personality, quite the contrary, their new album entitled G_d's pee AT STATE'S END! It was accompanied by a press release that included very precise and very clear requests:

1 - Stop wars and imperialism
2 - Tax the rich until they are impoverished
3 - Remove power from the police
4 - Empty the prisons

How to say ... all requests so simple to satisfy, let's say that in the short term it seems to me that the group will not be able to grasp any satisfaction, but we must admit that they tried. But that's not all, just in order not to betray themselves they asked their fans to buy the records only in independent stores in order not to contribute to the capitalist logic, I add that the disc was previewed through a free streaming event, a concert. filmed at the Imperial cinema in Montreal, a cinema ... empty.

Speaking of the record itself, electric guitars, crepuscular choirs, violins, metallic voices and in Military Alphabet also the sound of a helicopter are the masters.

Perhaps it is not the best record of their career, but there is no doubt that it contains all the distinctive traits that have always characterized the group, its identity.

Teresa
Do you like our articles? subscribe to our Newsletter so as not to lose even one!!
News from the music's world